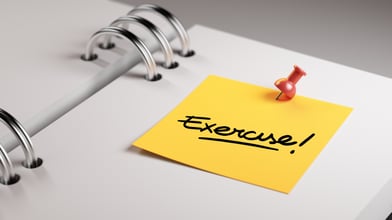 There is more and more discussion in corporate wellness today about doing wellness for (with?) employees, creating thriving workplace environments, shifting toward programmatic choices that allow for volunteerism and financial literacy, engaging employees with more purposeful work, and using job crafting to create more meaningful work.
It's an interesting time to engage in discussion about what these paradigm shifts really mean when it comes to practical, on-the-ground-application for employees. I agree with much of the dialog; I think it's past time to consider a shift and to take action on it. And yet, I'm concerned that we may be packing away some key elements for "old school" corporate wellness that should not be left out of the mix. One of those program options that is on the fringe is physical activity.
If the basis of your corporate wellness initiative is to help employees live well so that they can bring their best to work each day, then you cannot leave exercise behind. While you consider things like living wage, job crafting and other areas that impact individual well-being, you also need to keep the idea of making the healthy choice the easy choice at the top of mind. Here's how exercise maintains relevance in corporate wellness even as the concept of such offerings continue to evolve.
The workplace is a prime place for making exercise easy
The research about the benefits of regular activity are clear. What remains elusive are effective strategies to nudge employees toward a more active lifestyle. But, that doesn't mean we should stop creating easy ways for the workers to move their bodies. Time and money (access) remain the two biggest barriers for adults when asked why they don't engage in regular exercise. Like it or not, the workplace becomes a prime location for employees to fit in some activity.
Exercise doesn't require as much guess work as other initiatives
I know a lot of organizations have taken on wearables as the hallmark of their wellness program's physical activity component. It may be tempting to go that route - it seems relatively easy, and if the cost to implementation isn't a barrier for the organization, you can simply give everyone a Fitbit and get on with it. There are however, many reasons to exercise caution with the use of wearables in your wellness program, not the least of which is privacy.
[Read more: Why Wearable Fitness Trackers Aren't Your Wellness Program]
Outside of the wearable marketplace, there a host of ways you can make physical activity an easy choice in your work environments. We're partial to a corporate fitness center, but that's not the right fit in every business. While you need variety, you don't have to spend a ton of money to execute this well. Group fitness classes can be run with modest cost (or no cost - employees can fund this if you simply make the opportunity available). Painting out safe walking zones in your parking lot, providing resources for stretch breaks, and offering solid education on opportunities for exercise in the community are examples of low-cost initiatives that can easily be developed.
Leading the way is required
Sometimes, the best way to communicate that movement is important for your workforce has less to do with programmatic offerings, but instead is focused on shifting your culture so that walking breaks are repeatedly encouraged and modeled.
[Read more: 5 Tips To Help Your Employees Move More]
Leaders in the organization have to adopt a mindset where taking a break for physical activity during the day is not just accepted, it's encouraged. One of the best ways to do that is by modeling (yes, that means you need to take your own breaks!). You also have to be mindful of workplace policies (clock in/out policies, productivity quotas, etc.) that may send a different message than the supportive communications you've issued. If words and actions don't match up, employees aren't likely to adopt new practices.
At the end of the day, you can't really legislate that employees exercise. The motivation to move has to be an inner drive in order for it to be a sustained choice. But, you can make it easier for your workforce to have access to physical activity by creating both spaces and support for regular exercise.