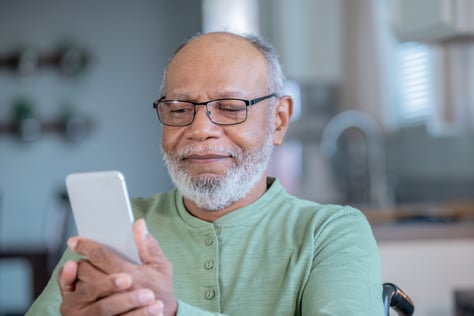 With NIFS non-profit mission rooted in research and helping people age successfully through the lifespan, we are excited to support a new research study from Johnson and Johnson, in collaboration with Apple. Heartline is a heart health study for individuals 65+ with the goal of helping participants understand and directly engage in their heart health and improve health outcomes.
As NIFS is currently partnered with dozens of senior living communities across the country and our residents love to learn about a variety of health topics, current research, and trending technology, we reached out to Heartline to learn more. What we discovered is that NIFS is uniquely positioned within the senior living industry to help support this study while also inspiring our residents with their desire to learn, contribute and be active.
Check out the website at www.heartline.com/NIFS as they do a great job describing the intentions of the study and how to get involved. Anyone residing in the US who is 65+ with an iPhone 6s or later and who has Medicare coverage is eligible to participate. Hello huge boomer population, we are talking to you! You don't have to be personally invited or residing within a senior living community to get involved. If you meet the criteria above, you can visit the website to get started.
Here are a few things that I took away from our first discussion together that I really liked about Heartline and the helpful folks from Johnson and Johnson.
Ease of use: The study first launched in early 2020 giving them opportunity to gather user feedback on the Heartline app. If we were to introduce the study to our members, we knew that many would have questions on the ease of participating and using their iPhone or Apple watch. The Heartline app is in the app store and is currently rated at 4.6 stars with many positive reviews on not only how easy it is to participate but how individuals have increased their physical activity levels as a result of participating. Win #1.
Participant perks: By joining the study, individuals are not only contributing to medical research but they receive heart health education and have an opportunity to earn rewards. Again, reading some of the reviews within the Heartline app is a great showcase of how beneficial some participants have found the educational aspect to be in making positive lifestyle choices. Win #2.
Getting started: The knowledgeable team members from Johnson and Johnson made it easy for NIFS to get started in promoting Heartline by providing us with marketing collateral to help spread the word to our members. Not only did they provide flyers and newsletter article content we could use, but they helped us tailor it in a way that aligns with our messaging to our members while meeting their standards. Win #3.
NIFS is now promoting the Heartline study within the fitness centers we manage in senior living communities to be an advocate of research, heart health and technology in the realm of physical activity and older adults. You can be an advocate too by sharing the website with local senior centers, senior living communities, church groups, or the seniors in your life.