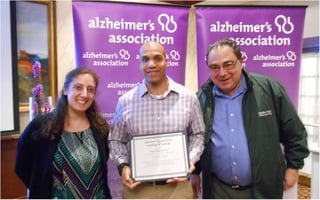 One of our clients put the Alzheimer's walk on center stage this year, and the residents responded with gusto! Paul, NIFS fitness center manager at Meadow Ridge, knew he wanted to create programming around the area walk from a fitness perspective, but he was also interested in building a synergistic event that involved both employees and residents, many of whom have been personally touched by a loved one with Alzheimer's disease.
It was their first time raising money for a cause, and they weren't sure what to expect in the way of participation. But with thoughtful planning and a team effort, this year's event was a success. Here's a rundown of how they executed a $4,900 fundraiser for Alzheimer's disease research on their very first try.

Paul initially set out with a personal brainstorming session to consider options and overall structure of what he wanted to offer. With that outline in hand, he met with both the administrator and the executive director. By the end of that meeting, they had a variety of fund-raising ideas on the table. Most importantly, he had the support of the resident health services director and the activities director to pull off the plan throughout the month of September.

Building Excitement

Paul started with a letter to the residents about what was coming. He mentioned the community's support of the Walk to End Alzheimer's in their area, and provided some basic facts about the impact of the disease. He provided a teaser in the letter to pique their interest and encourage them to watch for another communication outlining how they could get involved.

He followed that letter with another print communication announcing himself as the captain for the Meadow Ridge walking team, and invited residents to participate in either a walk at Meadow Ridge or the three-mile designated Walk to End Alzheimer's in their area. He also outlined information about how to make a donation and included an envelope complete with a receipt for tax use and a return label on the front. All they had to do was write the check, seal the envelope, and return it to the receptionist.
Two days after the second letter went out, they hosted a root beer float day. That was a brand new activity for Meadow Ridge, and it successfully inspired recollections of childhood for participants. At the float-making station, they had reminders about making donations using their envelopes, and they also had a donation jar. They quickly raised almost $300 in cash at that 90-minute event.
Fund-raising Events
The next week the community offered two different fund-raising events. The first was a resident-only bingo party where the cost to play was $5 per game. Of course, great prizes were offered to those who won each game. They also held a 50/50 raffle with employees. This event raised $206 in total, where $103 went to the winner and $103 was donated to the Alzheimer's Association.
The last week included a raffle for 30 different prizes for home services like gardening and housekeeping. There were also dinner-for-two prizes and opportunities to win a personal assistant for a day. The grand prize was dinner for three residents with the community owner. Some of the prizes were internal services offered by Meadow Ridge staff, while others were from outside vendors who wanted to participate in this important event.
A Big Success

In the end, they had participation from about one-third of the residents, and a team of 79 residents and employees joined in on the walks for a total of 64 miles. And to top off all of the enthusiasm around this fund-raising, the Alzheimer's Association recognized the community for their creative efforts.

The whole thing was such a hit, they are already dreaming of what they can accomplish next year!

Related: How One Senior Living Community Got Focused on Brain Fitness

Our staff put their creative ideas into their programming to help increase resident participation, click below to see how you can improve your programs.