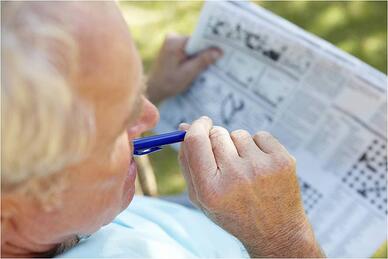 Most senior living communities have a variety of group fitness classes on their calendars focused on balance, muscular strength, flexibility, and cardiovascular health, and the clients we work with are no different. But we've landed on a program tied in with our group fitness classes for seniors that has become wildly popular with the residents. It turns out, it's been a great way to draw more participants into the exercise program, too.
The Popularity of Brain Activities
At one of our client's communities we have many of the typical activities to stimulate the mind: card games, lectures, forums, resident committees, etc. And at one point we offered a "Memory" workshop series. This was so popular that we added a word of the day and the TriBond® game to our daily information board in the fitness center, along with including puzzles in our newsletter.
Over time, we noticed that more and more people started coming to the fitness center to learn the word of the day, to get the TriBond® puzzle, and to ask questions about the puzzle in the newsletter. It was obvious that our residents were craving ways to challenge their minds, and we were eager to respond in ways that would help them keep their minds strong or increase their abilities.
So we added a brain fitness class to our group fitness schedule, and that class is thriving each week! In the weekly offering, our residents have a wonderful time challenging their minds. They learn new games like Sudoku, and play old games like Memory™. They also engage in history trivia questions and challenges. One of our residents recently named all 44 presidents, in order, off the top of her head!
How to Start Brain Fitness Classes at Your CCRC
We've started offering this type of class at our other senior living client sites with similar popularity. Here's some advice on how you can get it started in your community:
Hold an event such as a brain fitness fair for your residents to see how fun and important it is to continue to work on the mind.
During the event, pay attention to what the residents like and don't like. This will help you build a class structure that works for them.
Do not always make the class what they like. In order to strengthen the mind we need to challenge it. Typically the things that we do not like are the things that we find challenging.
Begin putting puzzles in your weekly or monthly newsletters.
ADVERTISE EVERYWHERE!
Brain Class Structure
For the structure of the class, consider the following ideas:
Begin with a task that can be done while waiting for everyone to come in and sign in. (Example: Write your name with your non-dominant hand or with both hands at the same time.)
Have classical music playing in the background. Some studies show this increases the brainwaves that stimulate thought process.
Come prepared with four to five activities. Make it a variety of word games, long-term memory/short term memory, and deductive reasoning. Here are some sites that might provide some ideas: MazestoPrint.com, Activityconnection.com, BrainBashers.com, and ThinkablePuzzles.com.
Leave time for discussion in small groups and then time with you for answers.
Have the answers for all activities to share with the participants. (The residents will be angry if you don't!)
If you do not finish all activities, consider giving "homework."
Learn more about physical exercises that help improve cognition here.
Let us know how your brain fitness program works in your setting! We'd love to keep sharing these kinds of ideas to improve the health of the residents we work with.