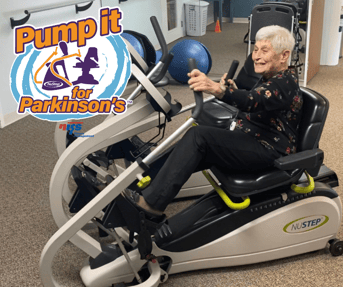 When designing a senior living fitness center, there are many factors that aid in the decision process when choosing equipment for our clients and their residents. We want to incorporate equipment that is cost effective, easy to move, applicable and safe for many individuals, and of course enjoyable. Here are five reasons why the NuStep is a staple in the senior living fitness centers managed by NIFS!
Confidence Builder – We often have residents with limited exercise experience, or they may have joint pain that they feel limits their ability to exercise. The thoughtful step-thru design and swivel seat make the task of sitting and getting into position comfortable and safe for many users. The low impact motion is a great way for residents to move their upper and lower body to gain the confidence that they can exercise, and they feel better by doing it!
Size of the NuStep – The size of models will vary depending on the year manufactured but, in most cases, a NuStep is about 3.5 ft tall x 5 ft in length and 2.5 ft wide. With these dimensions, it doesn't take up too much space in your senior living fitness center. The average weight for a NuStep is two-hundred pounds. Once the machine is in use, it stays sturdy in one location for our senior living community.
Ease of Use – NuStep cross trainers are beginner friendly and designed to be applicable to a wide range of individuals. Residents don't even have to press buttons or try to understand complicated display monitors to turn it on or off. As soon as they start pumping their arms and legs, the machine turns on automatically. The NuStep then tracks helpful metrics for how long they have been on the machine, along with total steps if they are going for a particular goal.
Intensity – The NuStep can cater to ranging levels of strength and endurance in residents. This is done seamlessly by participants using a green handle located on the right side of the machine to adjust the workload. NuStep intensity levels range from one through ten. Pumping at the high end of that range gives our advanced residents a more intense working to accomplish their goals and our beginner exercisers can continue to safely build strength and endurance by increasing the workload over time.
Ability to Move/Fix – The mobility of the NuStep is very convenient. Wheels on one end make it easy to relocate if needed and since a variety of models do not require electricity, it can accommodate a variety of floor plans. The need for repairing the machine due to mechanical issues are quite low due to the durability. The most popular "fix" is to simply replace the batteries in order for the monitor to turn on so your residents have that feedback as they get their steps in each day.
We love seeing the confidence our participants gain by having an exercise option that meets their needs in a senior living setting and the NuStep continues to be one of the most accessible, durable, and loved pieces of equipment by our residents! We love it so much that we developed a whole program centered around the NuStep!
Pump it for Parkinson's is a nationwide event on World Parkinson's Day where we are putting NuSteps to work in senior living communities across the US! This day-long NuStep-a-thon on Tuesday, April 11th will help raise awareness on the benefits of exercise for those with Parkinson's. Communities will receive expert resources from NIFS on how to support their residents with Parkinson's and there will be a chance to win a free NuStep T6 Cross Trainer! Visit our Pump it for Parkinson's event page to complete your community's free registration today and help us spread the word!