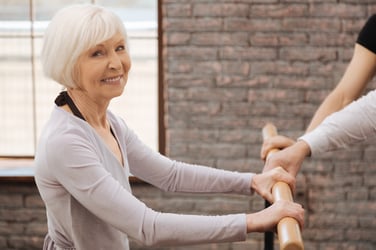 Barre, a fitness regimen, has recently gained a lot of popularity over the years. This low-impact exercise does not require any fancy, expensive equipment and people of all ages can do it. It is a workout that combines elements of Ballet, Pilates, and Yoga. It focuses on low-impact, high repetition, and small isometric movements to strengthen and tone your body.
I personally love barre and believe it is such a good workout. I try to implement it into my own weekly fitness regimen! When I started working at my community, I thought why not introduce Barre to our residents? It's a fun and low impact workout choreographed to upbeat music, they might just like it. We introduced the class and added it the schedule and have gained a good group of "regulars" since then.
Here are a few reasons why I believe Senior Barre is a must try workout to add to your schedule:
Appropriate for those of all ages: The small range of motion and low impact workout is a great option for those with limited mobility. Barre is modifiable for all fitness levels yet can still be challenging enough to push yourself further than you thought was possible.

Improves strength and balance: Certain exercises may be done on one leg which allows balance and strength to be tested. A lot of exercises will require you to use multiple muscle groups at the same time while engaging your core. Barre also targets a lot of the smaller, intrinsic muscles in your body that are often ignored when performing other strength training workouts.

Creates a sense of community: Going to a Barre group fitness class gives people an opportunity to see their neighbors and friends while still being healthy. Attending these classes help create a sense of support, teamwork, and commitment!

Improves posture: The class spends a great deal of time focusing on proper spinal alignment form the top of your head to the tips of your toes. It especially includes a focus on the hips, spine, neck, and shoulders.

Improves flexibility: You don't have to be a flexible Ballerina to enjoy Barre, but it will help improve your range of motion. Maintaining good flexibility can help you stay mobile and participate in all different types of activities.

Reduces anxiety or stress: Regular exercise can help divert you from thinking about what you are anxious about. Your body also releases endorphins during exercise which can help keep your mind sharp.

Can be done at home: With everything going on with COVID and with a lot of gyms and studios shutting down or having extra restrictions, Barre is the perfect workout that can be done at home. It's doesn't require any crazy equipment and since most homes do not have an actual ballet bar, most exercises can be done using a chair. Also, if you don't have a set of weights at home, you can use soup cans or water bottles.
Barre's functional training component can help give seniors the proper form to help them with everyday activities of daily living. It also has a great number of positive physical, mental, and emotional health benefits. There are so many fun and challenging ways to keep your body moving during these classes, so the next time you are thinking of changing up your fitness routine, try a Barre class!