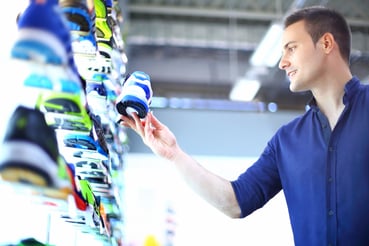 The correct footwear plays a vital role in your time running on the road or just walking around at home or work. But what makes a good running shoe? With a wide variety of options it can be hard to determine the best fit for your foot type. Knowing if your foot is normal, flat, or high-arched can play a role in the type of shoe best for you. An employee at a fitness store should be able to help you determine the best type of shoe for your foot.
Here are some tips for finding the right fit:
You should look for a shoe with a low heel to toe drop. This means the heel cushion should not be significantly larger than the toe cushion. A Larger difference places stress on the front of the leg and can cause imbalances in the front and back of the lower leg, which may lead to pain or discomfort while running.
All shoes don't fit the same. Your shoe size may be different depending on the style and brand of the shoe. You should have a thumbs width, or about ½ inch of room in the front of the toe box when the heel is slid to the back of the shoe. Anything less can put unneeded stress on the toes and foot, and a larger space may allow the foot to slide, causing blisters and inflammation of the foot. Be sure to wear socks you plan on exercising in to have the right thickness and consider trying shoes on later in the day when your feet are naturally more swollen.
Find a shoe with a neutral fit. There should not be extra pressure on your arch or the outside of the foot. This can alter your normal foot running pattern and can lead to pain and injury in feet, ankles, and even your knees.
Replace your shoes every 500 mil

e

s or so, depending on your activity. When shoes wear, the sole can become more rigid. This can change movement mechanics and may lead to pain or injury. Pay attention to how they feel, if you aren't feeling the same support, it might be time for a new pair.