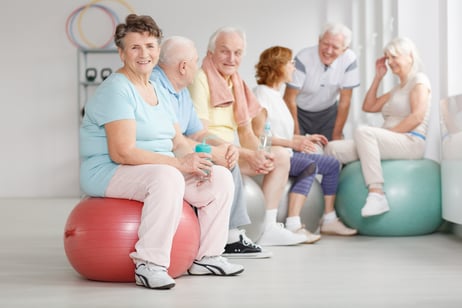 In the Active Aging community, group fitness is a large part of a resident's daily life. Exercising solo and following a written workout plan doesn't cut it for some residents. They need an extra motivational factor, such as being with a group and having someone instruct them step by step. Having friends around at all times is important to residents. It gives them a sense of security and accomplishment when they look in the mirror and see themselves exercising with close friends in the community.
Here are three ways to keep group fitness class fun and engaging enough for residents to return day after day.
Encourage New Participants
Retaining members in group fitness is simple, but trying to get new people interested is another trick. Establishing a rapport with residents before trying to suggest new things for them to try is a successful tactic. It shows them you care, and you're not just trying to boost your numbers. Reach out to new residents and set up a tour. Set aside time for questions and concerns regarding the fitness center and how everything operates. Making them feel comfortable in the setting is vital.
Allow Time for Socialization
Class time is precious. Some days we are on a very tight schedule, but encouraging people to arrive to a class 5–10 minutes early can make a difference in the class flow. One way to start the class off on a positive note while allowing for some socialization is to greet all members at the door upon entering. It gives them a feeling of calmness and warmth knowing that their attendance is recognized and appreciated.
Another suggestion is to open the class with a question about a recent event that occurred within the community; for example, a community-wide meeting, a recent bus trip, or last night's meal or party. (But be careful when asking about the food. That seems to be a hot topic at all communities.) This will allow for some interaction among residents and energize them before the class kicks off.
New residents often do not know many people when coming into a community. If a new resident comes to class, give them a warm welcome by introducing them to the group. Or, if that resident comes off as shy, quietly introduce them to their neighbor. It might turn into dinner plans for that evening!
Vary Exercises and Formats
Here are some ideas of ways to keep things fresh and challenging:
Residents love structure and routine. Keep class schedule changes and time alterations to a minimum. Too much change ends up having a negative impact on the group fitness program.
Many see the clock strike 10am and know there is a class going on. So, having a different type of class at 10am each day is a good way to give residents a variety of exercise.
Keep a routine warm-up and stretch routine in each class. It allows for residents to settle in and limit confusion while getting adjusted.
There are so many exercises and creative ways to cue an exercise, so use them to your advantage.
A couple different variations or intensity modifications per class is a way to make sure each resident leaves the class feeling challenged. It is tough to find a happy medium between too challenging and too easy because most classes have people with a variety of skill sets in attendance even if the class is noted as "high level."
When providing a new exercise, speak slowly and clearly so that the residents can grasp what you are saying. Giving a brief explanation for the variation or how it will impact their strengths/weakness is also a good way to keep the residents engaged.
Constantly teaching new information has been a successful tactic in keeping group fitness classes well attended at some communities.