Exercise continues to be one of the best tools to slow the progression and combat symptoms of Parkinson's Disease and the need for senior living communities to have dedicated exercise programs for residents with Parkinson's is increasing. According to the Parkinson's Foundation, 60,000 Americans are diagnosed annually and 96% of those diagnosed are over the age of 50 leaving seniors looking for best-in-class amenities and services including fitness professionals who understand their condition and can help them safely maximize the benefits of exercise.
Executive directors and marketing directors in the senior living communities NIFS serves were asking us for a marketable program they could offer in their fitness centers to support both current and prospective residents with a Parkinson's diagnosis. NIFS culminated our years of experience developing expert health and fitness programming, supporting residents with Parkinson's, and immersing ourselves in the science and research to develop Bold Moves™ a Parkinson's Program by NIFS.
While NIFS had the resources to develop such a program, it was no easy feat and as usual we relied on our expert staff to help us learn what works, what doesn't, and what resources and education we needed to enhance our department. Our staffs' passion and commitment to finding exercise solutions to support the needs of their residents is boundless and supporting those with Parkinson's is no exception as they helped us develop Bold Moves to incorporate: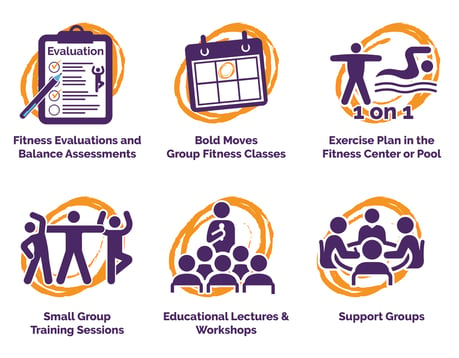 We were able to learn from the experiences of team members across the US and industry experts in the field of exercise and Parkinson's to create a truly unique program for our residents. Best of all, it's making an impact with how much residents are engaging in exercise generating a 96% increase in group fitness visits by participants and 92% of them rating Bold Moves as good to outstanding. These statistics are from residents already residing at these communities which indicates a dedicated Parkinson's program supports these residents in moving more!
Today, NIFS team members complete a comprehensive 8-week training including a specialty certification in Parkinson's & Exercise to effectively launch Bold Moves for our clients. We collaborate with community personnel to incorporate an interdisciplinary team approach to bridge resources and care where needed. Residents with PD have confidence in the credentials of their fitness staff and a program uniquely designed to meet them wherever they are in their fitness journey. In turn, NIFS senior living clients have a marketable service that helps them create distinction in their marketplace with 100% of participants rating Bold Moves as a great feature of a great community!
Here are a few questions to evaluate on how your community could take steps to support residents with Parkinson's:
What are the credentials of my fitness staff to deliver effective and safe Parkinson's fitness programs?
Do we have a class on the group fitness schedule that provides the training modalities, equipment and safety factors to support residents with Parkinson's in a class setting?
For those who don't like group exercise, how can we provide exercise options for them in the fitness center or pool that can help them manage symptoms?