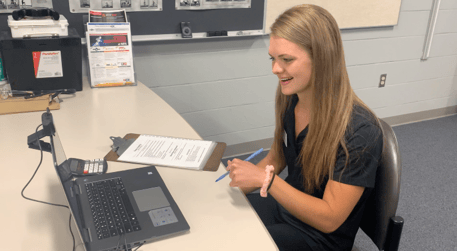 I recently shared insight on why there is a strong need for corporate fitness and wellness resources for employees while they work remotely during COVID-19 closures and extended work-at-home models for many employers. After all, working from home was already a growing trend before the pandemic. The way organizations support a culture of well-being needs a broader reach now more than ever to help employees live well. While options to extend that reach may feel limited, there are a variety of creative and impactful ways to meet those needs.

One service solution NIFS launched for our corporate clients this summer was NIFS' Personal Fitness Quest (PFQ). Employees signed up for this virtual program to connect weekly with their fitness specialist for complimentary personal training and coaching. Participants complete a pre- and post-assessment along with goal-setting as part of the program. When we asked our staff what their members want to achieve during their PFQ sessions, overwhelmingly employees were asking for accountability. Others had goals for easing back in after surgery and looking for more variety in their routine, but most people praised the program for the accountability it provided them.
Here's what our fitness specialists are hearing:
"People are struggling with consistency in their routines, or lack thereof. They want someone to hold them accountable. Once engaged, the members have been thankful for the support."
—Matthew, NIFS Manager, Indiana
"Our participants have struggled the most with prioritizing their workout and they've been lacking the motivation to get back on track with a fitness routine. Our participants really like having those weekly calls because that's what keeps them accountable and they're able to stay motivated."
—Aislinn, NIFS Manager, Indiana
"The feedback for PFQ has been very positive. Members enjoy being able to connect with a fitness specialist weekly to keep them accountable and answer questions."
—Jordan, NIFS Manager Pennsylvania
Here's what our members are saying about their experience:
"PFQ is fantastic to be able to schedule a guided workout at a time that works with my schedule, and to have one-on-one direction and encouragement. It helps keep me motivated to work out and be 'ready' for the next week. You did a great job of targeting the workout to what I wanted to improve."
—PFQ Participant, Indiana
"I think you're doing an awesome job virtually training! The process we have works really well for me, especially since you taught me some quick warm-ups in the first session outside. I only have positive feedback to share. Thanks for being flexible and creative to stay effective!"
—PFQ Participant, Indiana
The PFQ is one of many programs under NIFS' virtual service model, HealthYou. HealthYou helps us provide a range of fitness and wellness services to employees of client locations without an onsite fitness center, or with a large demographic of employees who work remotely and have difficulty taking advantage of their fitness center. Group fitness classes, wellness programs like PFQ, and Healthy Lifestyle sessions from NIFS' Registered Dietitian are all accessible with NIFS' web-based tools; so while it may feel difficult to make an impact, NIFS helps you broaden your organization's reach and connect your employees with the resources they need to live well.
This blog was written by Emily Davenport. To learn more about the NIFS bloggers, click here.