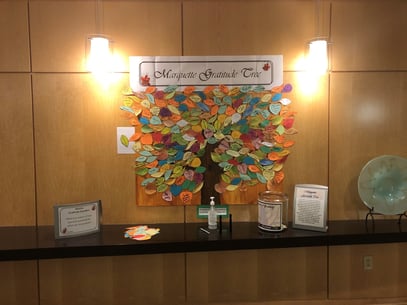 NIFS active aging staff across the country provided a focus on self-care programming for the senior living residents we serve with an emphasis on a variety of avenues to practice gratitude. While 2020 may have left us feeling restricted with so many variables outside of our control, practicing gratitude as a component of a well-rounded self-care routine empowered residents to reflect on the positive aspects in their life and enhance their well-being. After all, research has proven that people who practice gratitude show more positive emotions, demonstrate more kindness, and even have stronger immune systems.
Here's a little bit what our staff are reporting from those offerings:
NIFS Wellness Director, Candace - Newport News, Virginia
"We provided an Emotional Wellness Presentation focusing on education and self-care practices to enhance emotional well-being. Residents were very thankful for this presentation as most have felt their mental health has suffered during COVID-19. We also hosted a Gratitude Workshop where residents created Gratitude Pumpkins. They wrote all of the things they are thankful for on the pumpkin. They were also given "gratitude exercises" and thank you cards to write to those they are most thankful for!"
NIFS Wellness Coordinator, Meredith - Raleigh, North Carolina
"We hosted a speaker here that is a psychiatrist and he spoke on aging with grace (specifically during COVID-19) and so much of what he reflected on was taking time to express gratitude especially in the times when we feel we have the least to be grateful for."
NIFS Fitness Specialist, Jennifer - Lakewood, New Jersey
"For our Health Center, family members recorded a short video wishing their loved ones a Happy Thanksgiving with well wishes. This was displayed on Touch Town on Thanksgiving Day. The excitement and wishes that the family members expressed were breathe taking. I have to say, that the programs and exercises that we provide, the residents are extremely thankful and appreciative."
NIFS Fitness Manager, Miles - Bridgewater, New Jersey
"To deal with the toll the year has taken on resident's mental and physical health, I ran a two-part presentation discussing the importance of stress management and mental health as we approached the COVID affected holiday season. The residents attended enjoyed the material and we were able to have great discussions after both presentations. In fact, hearing their concerns inspired me to begin a meditation class in December."
NIFS Wellness Coordinator, Becca - Indianapolis, Indiana
"We ran a Tree of Gratitude program where we watched a tree grow full of gratitude leaves filled out be residents. The tree grew and filled in with more and more leaves as the month went on as a strong visual representation of what individuals and our community as a whole has to be thankful for."
NIFS Wellness Director, Miles – Richmond, Virginia
"Residents were thankful for the self-care material as it was really needed here during this time period. The chaplain gave us recognition for the program, promoting each self-care week offering during her weekly bible study that is streamed."
Self-care continues to be more important than ever as we not only ride out the challenges of the pandemic but also through the seasonal changes ahead where many have difficulty being as physically active and struggle with seasonal mood disorder. Additional offerings NIFS team members provided residents over the holiday season included deep breathing exercises, laughter yoga, Chi Tea and Tai Chi events, mindful meal planning, mindfulness practices and healthy sleep tips. Adopt a daily practice of identifying three things you are grateful for and consider these additional self-care tips from NIFS to show yourself and others a little love.
Evaluate your wellness program using our Quick Read: How to evaluate your Wellness Program, click below to download!