This blog was written by Samantha Whiteside. Meet our blogging fitness specialists at the NIFS website.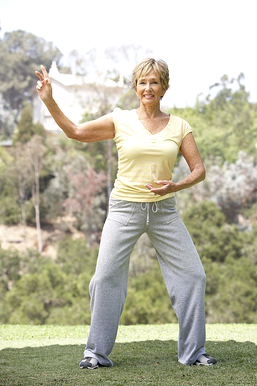 With the elderly population only increasing, many senior living fitness centers are looking outside the box for ways to keep their residents moving and their spirits high. Tai chi could be part of the answer.
Tai chi is an ancient Chinese martial art that is practiced for health benefits. It has long been known to reduce stress, but researchers at UCLA recently found that the ancient martial art, in conjunction with a prescribed medication, can decrease depression in seniors.
Over a four-week period, 112 seniors aged 60 or older with major depression were given Lexapro. From those studied, 73 who showed only partial gains in their battle with depression were additionally prescribed 10 weeks of tai chi classes or health education classes for two hours per week.
Although both groups showed a decrease in depression, the group participating in tai chi displayed the greatest reduction. An additional 14 percent, compared to those not partaking in tai chi, were actually placed into a "remission" category. Thus, UCLA's study shows that mind-body exercise can fight depression in older adults.
What ailments can exercise help your senior wellness program clients overcome?