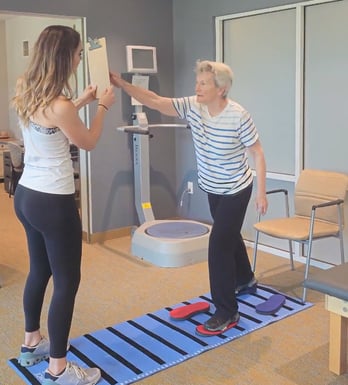 What is great about practicing balance is that there are multiple ways to do it including the utilization of various machines. Within senior living, evaluating equipment options can be a helpful starting point to developing a comprehensive fall prevention program for residents. In this two-part blog series, we'll be covering investment pieces to incorporate in your fitness center's fall prevention programming as well as more budget-friendly options if you are looking for more cost-effective options to give your programs a boost in Part II.
Let's dial into elements of technology. "Fancy" machines, as our residents often refer to them, may hold a bad reputation due to their price tag alone. Just like any organization, "fancy" machines have their place within training and may want to be considered when optimizing a broad scope of functionality regarding balance.
Balance training machines are prevalent in laboratory settings within colleges. Common consumers may have not heard of or even seen balance training machines previously. Let's take a look at these four balance training investments: Biodex Balance Machine, Virtual Reality, Wii and Step & Connect. As with anything in the realm of senior living, resident utilization and success of such pieces requires a fitness champion to assist them in feeling safe and confident in how to utilize each piece.
Biodex Balance Machine – This machine is an investment in one's balance training machines and may be utilized with athletes to older adults. The machine comes with a built-in touch screen for ease of use for its users. Capabilities of the machine include but are not limited to static environment, dynamic environment, as well as a Fall Risk Screening tool for those who track their abilities and progression. Multiple high-end machines such as this one come ready to go with built-in programs for its users to dive into that are most applicable for them at their fitness level!
Virtual Reality – Through the utilization of virtual reality, one can visit any world/ environment that they wish. Multiple forms of virtual reality consist of videos games that are played with a headset that encompasses one's vision to have them become fully immersed into their "new" environment. Popular video game systems are built entirely around this idea and have grown over the past decade to the point where anyone can go to their nearby technology store and find a virtual reality headset. Games that train your balance play with your depth perception within the game or force you to move in certain movements that challenge your stability like dodging an incoming object. This method is applicable to many and may prove to be a fun and interactive way to improve balance without even realizing it either alone or with family/friends! We haven't seen significant application of VR while weight-bearing for residents yet but that may come in time with younger seniors and improved familiarity.
Wii Fit & Recreation – This may be the simplest approach to incorporating an element of technology in balance training as many senior living communities utilize a Wii in their programming. Consider messaging use of Wii gaming under the umbrella of fall prevention and balance training. The coordination, footwork, and agility required in several Wii games is wonderful for balance training and many residents are already familiar!
Step and Connect Mat - A specially designed training tool that aims to enhance balance and stability. It consists of a durable, non-slip mat with strategically placed footprints or markers. The footprints or markers serve as visual and audio guides for positioning and stepping. They help users develop proprioception (awareness of body position) and spatial orientation while performing various balance exercises. By following the footprints or markers, individuals can practice controlled movements and weight-shifting exercises. It provides a safe and structured platform for improving stability, coordination, and core strength. Regular use of the mat can contribute to better overall balance and reduce the risk of falls or accidents.
How do you evaluate balance in your senior living community? With Falls Prevention Week coming up this September, check out our FREE Empowerment Workshop! Your community can join us in empowering residents nationwide to feel confident in their abilities to get up off the floor with our training! Click below to learn more and register your community for a chance to win a Step and Connect Mat!