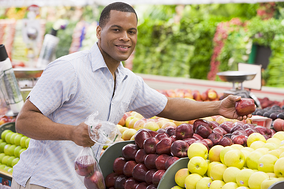 Reading food labels just became a little bit trickier! If you've gotten into the habit of studying the labels of your favorite foods for nutrition information, here's something else to include: produce stickers. Fruits, vegetables, herbs, and nuts generally bear stickers with special codes that tell the checkout person how much the food costs. But these labels also provide important information about where the produce came from. Here's what to look for:
Four-digit code number: These types of codes, which usually start with a 3 or a 4, mean that the food was conventionally grown and may have been exposed to different chemicals such as fertilizers and pesticides.
Five-digit code number beginning with an 8: A code like this tells you that the item has been genetically modified, which means technology has altered its genes. This is done for a variety of purposes, such as boosting immunity to insects, producing a bigger crop, making items appear bigger or tastier, etc. The safety of this practice is debated.
Five-digit code number beginning with a 9: An item bearing this type of code is organic. If you're looking for your safest bet in terms of avoiding chemicals, this is it.
Wondering when you should splurge for organic? When it comes to peaches, peppers, celery, berries, leafy greens, apples, cherries, and grapes, organic is best. However, foods such as sweet corn, avocados, onions, pineapples, watermelon, mangoes, asparagus, cantaloupe, and kiwi tend to be cleaner even when conventionally grown.
Next time you're in the grocery store, put your knowledge to the test to see what type of produce offerings it provides!