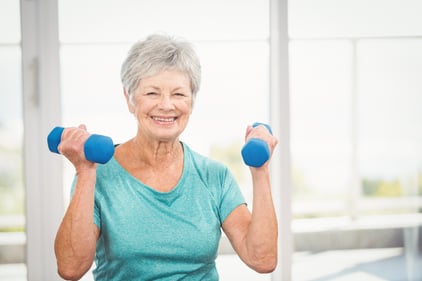 I recently had a resident from one of our client sites in Illinois contact me wanting to know which senior living communities in greater-Indianapolis NIFS was partnered with as she would soon be relocating to be closer to her daughter. She wanted to refine her search to communities where NIFS was similarly providing a robust health and fitness program to what she had come to experience in her current community. She had done some exploring on her own and quickly recognized that communities simply having an onsite fitness center with some weekly exercise classes did not measure up for her.
Think about that for just a minute, she was making visits to communities and spending time on websites; a fitness center walk-thru during a tour or clicking on some pictures of amenities on a website were not showing her enough. This informed consumer understood the value and distinction of a professionally managed fitness program and she wanted to narrow her focus to where she knows NIFS helps communities deliver on their brand promise of supporting residents in living well. A couple of observations on her part that she loved about her NIFS program:
Amazing Staff: she commented on how much she enjoys and appreciates the knowledgeable and degreed NIFS staff at her community. She shared how much she valued the relationship with the staff and the creative and engaging ways they keep her motivated.
Robust Programming: she loves a good challenge and finds that NIFS exercise challenges, incentives and educational programs keep her motivated. She likes the regular schedule of NIFS initiatives and is always asking what's next!
Community leadership or life enrichment staff in senior living communities might not even see the distinction the way this resident does. After all, fitness is only component of an overall wellness program and/or community to operate. Or perhaps you are thinking other seniors wouldn't make such an astute observation in a fitness program.
When NIFS first begins staffing services at a community and offering creative programs to engage residents, one of the common pieces of feedback we hear from clients is, "We didn't even know what we were missing or that you would be able to get as many different residents engaged." They knew they wanted to do better when bringing us in, but how quickly we'd make an impact regularly takes them by surprise. It's always one of our favorite moments in a client relationship!
Here are a couple of examples of that program growth at NIFS client locations:
In particular, take a look at the Total Members, Classes Offered/Month and Class Participants/Month. There are not a significant number of new classes added to the calendar at either community but through our ability to recruit and engage more residents in the fitness program, overall class participation increased by 46% across these two communities. If you think your group fitness participation is strong now, how would it look with an increase of almost 50%? What about a 34% increase in the number of one-on-one appointments conducted during the month? What kind of message would that participation convey to current and prospective residents? Is that a distinction your community needs?
This holds true with many residents as well. Once they see and experience the distinction, the fitness program becomes one of their biggest areas of pride in the community and something they vocally champion to visitors, guests and family members. Over a decade ago when I was still managing a NIFS fitness center, it was always interesting to hear the oohs and ahhs of guests of residents who joined them for a class or came into the fitness center to exercise with them. They would often tell me how it compared to the fitness center in the community in which they lived or in comparison to the resources available to them aging in place at home. Again, they had to experience it to see the distinction.
Perhaps it's time to evaluate the quality of your wellness program to discover opportunities for your community to create distinction in the active lifestyle of your residents. It may also be time to consider your marketing message and how you are positioning your fitness program with prospects.
Evaluate the quality of your wellness program, download our quick read below!