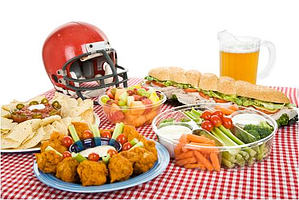 Did you enjoy yourself a bit too much while watching the big game on Sunday night? Did you vow to stop at three chicken wings and one beer? Did the wings and beer turn into a dozen chicken wings, plus two pieces of pizza, and more artichoke spinach dip then you'd like to recall? Despite our intentions to practice some self-control, we all over-do-it with food and alcohol sometimes. Don't let one night or even several days of poor eating habits discourage you from chasing after the goals you set for yourself this year.
Here is your guide to getting back on track after a night of over-indulging:
Forgive yourself. No one is perfect including you. You may feel disappointed that you ate too much, but demanding perfection of yourself isn't going to make you feel better and it's certainly not going to help you reach your goals. Acknowledge your feelings and move on. You can't change the past but you can determine how you're going to move forward.
Don't get on the scale. You'll be tempted to see what the "the damage" is by weighing yourself but if the number is up, it may only serve as more ammunition to make you feel bad. This is not helpful if you are trying to practice step #1. Most importantly, it's unlikely that you actually ate enough calories to gain significant amount of body fat. So, that inflated number you may see is not a reflection of true weight-gain. The truth is, most of the food we eat when we're watching football is very SALTY. Any additional pounds you might see on the scale or feel when you put on your pants likely reflects water your body is retaining because of the higher sodium foods you ate.
Get back to normal. Starting today begin eating your typically healthy diet and exercising again. "Punishing" yourself with near starvation and putting in more time at the gym for the next 24 hours is not reasonable or helpful.
Skipping meals leads to blood sugar crashes which can send down the road of over-eating once again. Eat a normal healthy breakfast to begin the day. Wanting to eat a bit lighter is a good idea and may make you feel better. Aim for fruits and vegetables and don't be scared to include sources of protein to help maintain even blood sugar levels throughout the day. And finally get rid any left-overs that may be in the house and calling your name. I suggest storing them in the trash can!
When it comes to getting back to your exercise routine you may not feel like completing that two mile jog if you're feeling bloated and full. Start with something simple if you don't feel well like a low intensity walk.
Drink up. Drink, Drink, Drink that water to help flush the body of water it's retaining. Staying well hydrated is also helpful for combating cravings that can occur post-binge.
Review your goals and learn from your mistakes. As in step # 1 don't demand perfection from yourself. You didn't exactly stick to your plan so ask yourself what you can learn. Did spend too much time in the kitchen grazing the buffet all night? What will you do differently the next time you face a similar situation? Don't forget to commend yourself for the things you did well. Creating a positive mindset starts with a positive thinking.
If you're a recovery junk food junkie trying to develop healthy eating habits realize it is a skill that must be practiced. Don't forget to review the goals you set for yourself this year. If you didn't write them down, do that now. Keep your goals in site, review them frequently, and determine what must be done in order to reach them. If you find yourself modifying and adjusting as you go along, don't get discouraged, this is only a sign of determination.